Above left: "Sir Michael Caine made his first stage appearances here as a wartime evacuee, 1940-1944." - and returned some 60 years later to unveil the plaque.
Above right: In the school room at North Runcton.
Left: Sir Michael was presented with a small piece of North Runcton School to remind him of happy days spent there.
Below: The blue plaque is in a series commemorating less well-known cultural events around the county, a project by the Eastern Daily Press and Norwich School of Art and Design.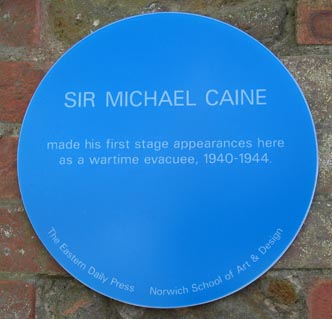 Left: Michael Caine on North Runcton Green - in the background are branches of the lime tree standing outside the former school mistress's cottage.
For more about the Caine connection and wartime North Runcton, click here
You can download a two minute TV clip of the visit from the BBC (requires RealMedia Player - instructions for installing RealPlayer, also from the BBC)